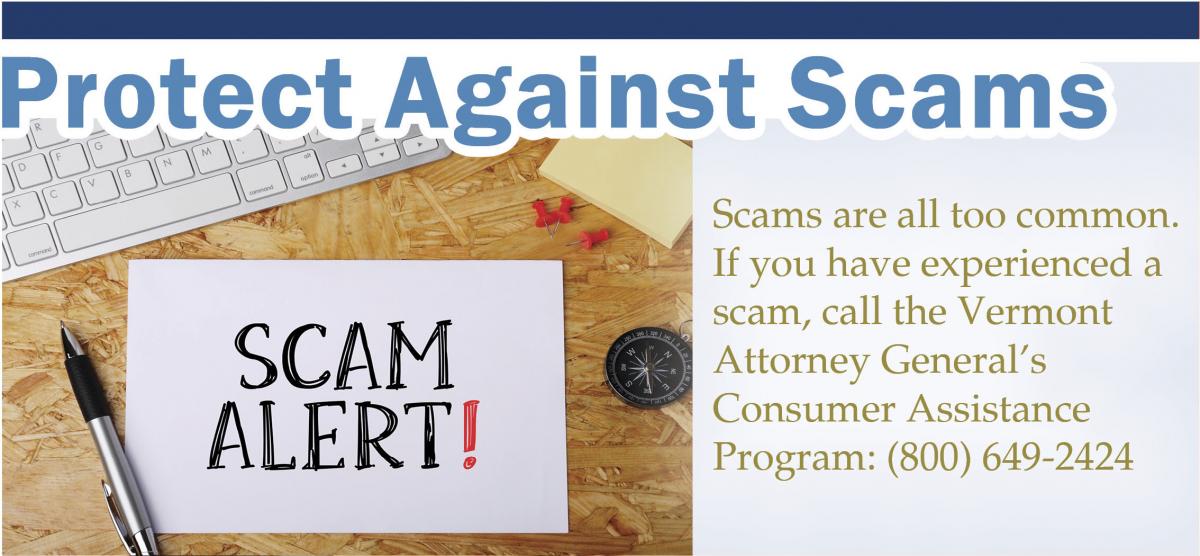 Don't Get Scammed
In 2018, Vermonters filed 5,471 scam reports with the Vermont Attorney General's Consumer Assistance Program (CAP). Scam reports total over one-third of all contacts CAP receives each year, making them one of the most common consumer issues affecting Vermonters. Nationwide, the Federal Trade Commission received 1.4 million fraud reports, and people said they lost money to the fraud in 25% of those reports.
CAP tracks trends affecting the state and provides timely warnings to the public. Sign up for Scam Alerts so that you can protect yourself and your loved ones from scams. Visit:ago.vermont.gov/cap/sign-up-for-scam-alerts/ 
Tips to Avoid Common Money Scams
Never wire money to a strangerDo not give out your personal banking, credit card, or debit card information.
Do not shop with unfamiliar retailers.
Never send cash in the mail.
Never send gift cards as a payment method or to someone you do not know personally.
Be careful when donating to charities; verify the charity's name, contact information, and how the donation will be used.
Do not provide remote access to your computer; this may occur when you click a link from an unfamiliar email.
---
Need Resources? We're Here to Help
MyMoney.Vermont.Gov is organized to provide helpful information about protecting against scams. Check out these resources: